Siag Office
Scheme In A Grid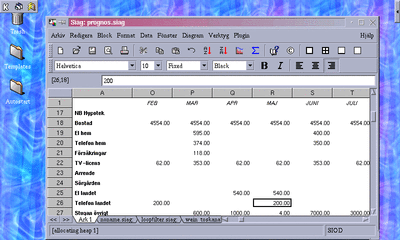 Siag is a spreadsheet based on X and Scheme. I originally wrote it out of frustration with the fact that almost no free, good looking applications were available for Linux. It is based on my old program Calc, which I started writing in the late -80's.

The program has existed in several incarnations: text-based curses for SunOS, text-based hardcoded vt52 for Atari TOS, GEM-based for Atari, Turbo C for DOS, Xlib-based for Linux and now Xt-based for Linux (or Unix, really).
---
Sources for Siag are available here.
---
Features you don't usually find in a spreadsheet
Recent Features
Support for the Mysql database. Screenshot
Support for the Lago database.
Download stock qoutes from Yahoo. Screenshot
$A$1 style references, which are not updated when cells are moved.
Examples for all functions.
Hundreds of functions, many Excel compatible, all documented in the function reference.
Arbitrary precision integer functions.
Arbitrary precision floating-point functions.
Rudimentary loading of ABS files.
New operators ** (power) and \ (quotient).
Complex numbers; example in complex.siag.
Matrix functions; example in matrix.siag.
New or updated documentation, automatically generated from the source.
"C" interpreter translates expressions to Scheme rather than evaluating the expression itself.